My Outlook Addresses.
Last night there was a mess in my Contact and Calendar. Somehow those were not synced at my iPad from Microsoft Outlook 2010 and there were lots of duplicate entries. The scenario was really brutal for me who sometimes forget his family members birthday without a calendar. Plaxo fixed my problem.
I found the problem. My iPad was set to default in my Gmail exchange. As it was synced on air outlook couldn't over write it. Each syncing return a error of duplicate item. My outlook had the updated data so I deleted all content from iPad. Then stopped sync my calendar with outlook because calendar sync with Google exchange is not a problem. But before this step I simply re-sync my entire outlook with Plaxo. As a premium customer I have this facility.
Plaxo has everything of mine (except email). I simply run the Plaxo de-duper as there were lots of conflict during iPad-Exchange mess up. Within a minute I got my contact list and calendar simplified by Plaxo. Plaxo outlook connector fixed them in my outlook within some seconds. So I got my fresh and corrected date. Then I deleted all contacts and calendar from my Gmail account. And re-synced Gmail with Plaxo and my Gmail account got all the latest data. And my iPad updated its calendar from Gmail Exchange. Then I simply synced iPad with outlook locally. Problem resolved. Now I am more than happy.

In last quarter of 2003 my friend Iftekhar Anam was visiting me. The found that I have huge list of contacts. That time he suggested me to use Plaxo so that my contact will be updated all the time. How? That time Plaxo outlook express/Outlook sync was free. And from computer for a particular contact (if that contact has an email) users could send update detail request (still can). I found this tool handy and useful and my journey began with Plaxo. After 2003 I have changed my computer for more than 9times. Formatted them for more than 20times. Never cared for my contacts, notes, calendar again. Each time after my workstation ready I simply ran Plaxo sync. That time it was really important because Hotmail offered 1000contact sync and there was go Gmail sync service.
Plaxo is a multi platform and multi workstation supported tool. This feature was a freedom for me. In my office, home, notebook, other offices my contacts and calendar were the same. Each time I have modified or changed any information in my outlook Plaxo updated that information in all nodes. Sweet! right?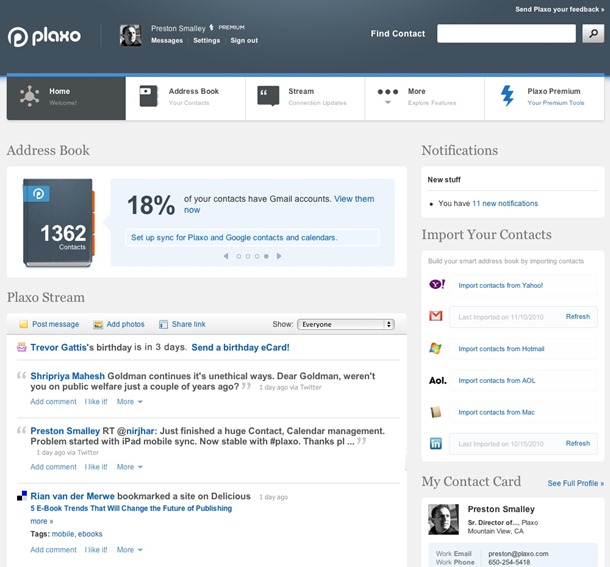 Plaxo is more social now.
Now this Plaxo is more powerful and more socio-business focused. Now it can share information with Facebook, twitter. It can import contact from almost everywhere and I always wanted to centralized my contacts. Because from web I can access my address book from anywhere. Plaxo is my address book for life. I completely agree with their slogan.
Scenario: Once I was mugged and lost everything including cell phone. I couldn't remember a phone number for help. Was far from home and really needed someone around. I went to a cyber café and logged on Plaxo and called my friend. Within next ten minutes helped came out. I am talking about the time when there was no facebook!
Few days ago I wrote an article (Microsoft is not ready for x64 operations!) where I was bothered about the support for x64 Outlook. Microsoft even don't care for it. And that was the first bad impression about Plaxo too. Plaxo still doesn't have support for 64bit version of Outlook. I would love to have this feature. Also will love to have geo tagging for my contacts.
After all those years I must say I love plaxo! It made my life easy. I don't care what other says about it. I am the user. I know this from my practical life. Go ahead Plaxo. I will recommend this to everyone.
Here is the feature: Plaxo Free version
• Unified Address Book (import contacts from email, webmail, phones, social networks, and more)
• Auto-updates From Your Connections
• iPhone Sync (download FREE app)
• Secure, Online Access
• Groups & Favorites
• Birthday Reminders
• Web Calendar
Plaxo Premium (Subscription)
• Plaxo's Free Features Plus…
• Outlook Sync (includes Outlook Express)
• Mac Sync (includes Outlook & Entourage)
• Google/Gmail Sync
• iPhone Sync
• Blackberry Sync
• Windows Mobile Sync
• Automated Backup
• Unlimited eCards ($19.95 value)
• Contact De-Duper
• VIP Customer Support
• Plus Plaxo's Free Features
or have a look at blog.plaxo.com for more interesting upcoming features.